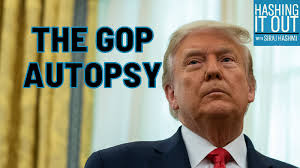 Following weeks of court defeats across the country, President Trump's legal team is hopeful that newly obtained security footage from a ballot-counting facility in Georgia may have given their campaign to overturn election results some rare, and much-needed, traction.
The video, taken from inside the State Farm Arena in Atlanta, purports to show ballot counters removing four concealed boxes of ballots from under a table after election supervisors supposedly had left the facility for the night. After removing the boxes of ballots, the facility employees seem to begin counting the new ballots with no third-party oversight — a violation of the state's election regulations, according to Trump's legal team. The president's attorneys believe nearly 25,000 ballots, all of which they say should be discarded, could have been counted.
The Thursday release of the video has given new life to Trump's claims that November's presidential election was rigged against him and the first piece of credible video evidence that some irregularities might have taken place in precincts that heavily swung toward presumptive President-elect Joe Biden. New accusations of fraud stemming from the video prompted Georgia Gov. Brian Kemp, a Republican, to reiterate his calls for a signature audit.
WATCH: Video footage from Georgia shows suitcases filled with ballots pulled from under a table AFTER supervisors told poll workers to leave room and 4 people stayed behind to keep counting votes pic.twitter.com/AcbTI1pxn4

— Team Trump (@TeamTrump) December 3, 2020
"I called early on for a signature audit. Obviously, the secretary of state, per the laws of the Constitution, would have to order that," he said Thursday night in an interview with Fox News. "He has not done that. I think it should be done. Especially after what we saw today. There needs to be transparency on that. Hopefully, in the next 24 hours, we'll see a lot more."
Kemp has been repeatedly hammered by Trump and his supporters for not going to greater lengths to investigate accusations of fraud and has remained steadfast in his denial that any systemic improprieties that could have changed the results of the election.
On Friday morning, the Fulton County Elections Director, Rick Barron, addressed the State Farm Arena video in a hearing and argued his agency saw no
What the video shows is that they pulled out underneath the desks, those are bins they keep under their desks near the scanners, they then cut the seals on those and open those up and pull the ballots out," Barron said. "It was normal processing that occurred there … other than that, we've gone through everything with the secretary of state investigators."
Barron's explanation did little to quell concerns with Republicans in the state and prompted Georgia House Speaker David Ralston, a Republican, to call for a new hearing over voting processes and elections in Georgia before the Senate elections.
"Ahead of the critical Jan. 5 U.S. Senate runoff, it is imperative that we ensure free and fair elections that inspire confidence and certainty in the results," the speaker wrote in a statement. "For that reason, I'm asking [Government Affairs Committee Chairman Shays] Blackmon and his committee to act swiftly and aggressively to follow the facts wherever they may lead so as to reassure Georgia voters their vote will count in January."
The state's voting implement manager, Gabriel Sterling, who went viral earlier this week when he accused Trump of failing to condemn escalating threats of violence against workers overseeing the voting system, reviewed the tape on Friday and concluded that the behavior constituted "normal ballot harvesting."
"The 90 second video of election workers at State Farm arena, purporting to show fraud was watched in its entirety (hours) by @GaSecofState investigators," Sterling, a Republican, tweeted.
Supporters of the president say if a small percentage — five-to-10% — of ballots in Fulton County are discarded after a signature audit, the state could flip to Trump's column. Biden narrowly won Georgia by under 13,000 votes, the first Democrat to earn a victory in the state in a presidential election since Bill Clinton in 1992.
State officials in Georgia have generally been dismissive of the Trump campaign's claims of fraud there. Citing threats of violence against him and his wife, Georgia Secretary of State Brad Raffensperger has publicly pleaded for the president's supporters to accept the results of the election and move on.
The insistence of fraud in the Georgia elections has spurred panic by GOP officials, who worry that many Republicans in Georgia will simply sit out of the Senate runoffs out of protest or belief their vote simply won't be counted. On Friday, Vice President Michael Pence arrived in the state for a rally with Sens. David Perdue and Kelly Loeffler in Savannah. The next day, Trump himself will arrive in the state to hold a rally for the two lawmakers as well.
Following Kemp's call of a signature audit, the president's attorney Rudy Giuliani accused Fulton County Democrats of stealing the election and that the "election in Georgia is now proven to be a fraud."
ELECTION IN GEORGIA IS NOW PROVEN TO BE A FRAUD.

— Rudy W. Giuliani (@RudyGiuliani) December 3, 2020
Author : Joseph Simonson
Source : Washington Examiner : Georgia surveillance footage gives Trump legal team rare traction in voter fraud quest